THE GUARDIAN    March 9, 2013.  
Time Inc's historic brands hold out hope for rebirth as company crumbles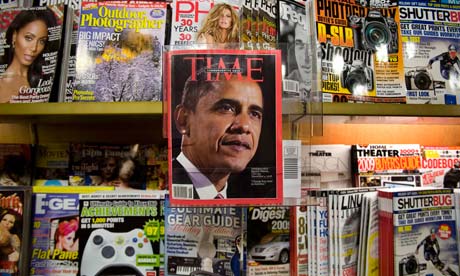 Time was once the world's most influential magazine. Its founders virtually invented the modern news weekly and went on to become publishers of some of the most storied and popular titles on the news rack: Sports Illustrated, Fortune, People.
Now staff talk of "grotesque amounts of empty space" on floors of the Time-Life building where writers and executives used to fight for a window seat. Many of those who have not been ousted are looking for the door.
This week media conglomerate Time Warner announced it no longer had time for Time. The media firm had tried and failed to sell the publisher to Meredith Corp, home of Family Circle, Ladies Home Journal and More.
Talks apparently collapsed because Meredith was only interested in certain titles including People and InStyle and not Time, Sports Illustrated, Fortune or Money, some of the company's most famous titles. Time Warner didn't want to break the division up, which also includes UK publisher IPC, home of Country Life and NME.
"A complete spin-off of Time Inc provides strategic clarity for Time Warner Inc, enabling us to focus entirely on our television networks and film and TV production businesses, and improves our growth profile," said Jeff Bewkes.
For Time Inc he added the deal would give "flexibility and focus of being a stand-alone public company and will now be able to attract a more natural stockholder base".
Staff are far from surprised. Insiders said the magazines had clearly been the "unwanted stepchild" for some time and that Bewkes had no interest in the titles. Management consultants McKinsey and Bain have been a constant presence. Some staff talk of plans to create hundreds of pieces of new content online for each magazine each day. Without staff to do it Time Inc's brands would have aggregate that content from elsewhere in a move that critics said was likely to damage the brands not build them.
In the meantime many of those that remain are hoping for payoffs now rather than under new management and are polishing up their resumes.
Writer Anna Shapiro has worked for Time Inc on and off for decades and said it was clear Time Warner's affection for the published word had been on the wane since the 1980s when more fast growing options came their way. First the company got into cable then came AOL, Time Warner's disastrous merger with once hot internet firm. Both of those divisions were spun off.
"Time Inc used to be a wonderful sponsor for the arts in New York," she said. Writers would be employed on a freelance basis which they in turn used to fund their own work. Those days are long gone," she said.
'The most turbulent time the industry has faced'
The financial pressures of dealing with the digital age have challenged Time as much as any publisher. Over the past decade, Time Inc's revenue dropped almost 40% to $3.4bn while its operating profit halved to $420m. Shares in Time Warner, by contrast, have risen over 19% year to date, driven by its cable assets.
The same story can be told of publishers everywhere, but Time staff argue their managers have been shoddy stewards of these famous titles. After losing longtime CEO Ann Moore in 2010 the company has had two bosses. The current leader, Laura Lang, announced she would leave when the spin off was unveiled.
"Time Inc has been without effective leadership for four years, longer if you count the last few years of Ann Moore's reign," said Peter Kreisky, a former senior advisor to Time Inc and chairman of Kreisky Media, a media strategy firm. "This ship has been sailing rudderless through the most turbulent time the magazine industry has ever faced."
The leadership the company has had has not impressed some. "I would look at the CEOs and think I could run this company better than you. These people think they have vision? They see nothing. They are missing the entire picture and they waste so much money on asinine things like office refurbishments and their disgusting salaries," said Shapiro.
Kreisky said editorial too should share blame for Time Inc's problems. The division is a "silo" within the company, he said, and its great brands had not been allowed to flourish because of internal politics. "Editorial has a huge fear of loss of control. The focus has been on content, editors control what happens to the brands. That's why you have never seen People TV, the editor's would be too scared that Turner (Time Warner's TV division) would claim it."
Other senior executives said there was a moment when the company considered merging its Time news gathering operation with CNN. But that idea got nowhere and sources said Bewkes and senior management had no emotional attachment to the titles and considered them a "millstone".
Talent has been fleeing Time Inc for some time, according to insiders. Jack Griffin, short-lived CEO and a former Meredith executive, appointed many new hires, most of which have now gone to be replaced with insiders. "There's been a lot of demotion upward," said one Time source. Insiders talk of confusion over the content management system (CMS) – the backbone of any online publishing venture. Plans to develop their own CMS appear to have collapsed. Staff complain that tiers of middle management who appear lost in confusion. The workload at the magazines has increased dramatically as they publish more and more editions with less staff.
Time Warner is not alone in spinning off its publishing division. News Corp is undergoing a similar exercise. The big difference is that News' boss Rupert Murdoch clearly loves newspapers and feels there is a future in print.
He's fighting an uphill battle with Wall Street investors, however, who remain unconvinced. Bewkes too got little applause for his decision and Time Warner's share price hardly budged.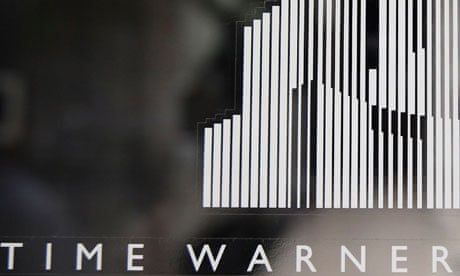 "Too little, too late," was the headline on Nomura media analyst Michael Nathanson's note on the split. "In this case, freedom is just another word for nothing left to lose," he wrote. "This once proud and profitable division is being punted as its business prospects look structurally challenged." The spin-off will "not materially change" Time Warner, he wrote.
His criticism is not far off that of the magazine division's staff: "Folks will say that Time Inc squandered their brands, but that is not entirely true. Attempts to buy cable networks (like E! by People or ESPN by Sports Illustrated) that could leverage their brands were squashed by the same corporate visionaries that bought AOL," wrote Nathanson.
Bewkes has pointed out that Time Warner's cable division and AOL have thrived since their spin-offs. A Time Warner spokesman said: "The reality is that this is a business that is doing quite well considering all of the problems in publishing." He said Time Inc was taking market share from competitors and that its titles continued to lead public debates. He said the company was looking for a new leader "as we speak".
Kreisky said Time Inc's historic brands could find a new lease on life under new ownership. "New management will be able to leverage these brands in ways that they haven't been able to do in the past," he said. "I'm optimistic," he said. "Well, potentially optimistic."